Since Tumblr has shut its doors in front of NSFW blogs the internet is in great demand of a porn alternative for juicy porn gifs and images. The story behind is that on 17 December 2018 Tumblr had decided to ban and remove adult content from its blogs. A widespread internet uproar and opposition started after the announcement. Existing posts containing porn were switched to private mode (meaning only the author could view it) and more hardcore or questionable porn content blog owners were suspended, deactivated, marked as "explicit" or fully banned. The ban includes explicit sexual content and nudity with a few exceptions – some naked art illustration forms, medical imagery, breastfeeding photos, political protests featuring nudity. And luckily the new guidelines exclude adult text content, so written erotica remains permitted (yay for the fans of erotic reading).
Internet traffic data analysts estimate that approx 25% of Tumblr's users visit the platform to consume porn. Research suggested that approximately 30+ million active accounts were consuming adult content on Tumblr.com
This ban is a HUGE deal. We are talking about a major media outlet losing 100s of millions of visitors per month. Essentially they dug their digital grave. It's not only a massive commercial mistake that will decimate the social site's popularity but with the bulk removal of explicit content, it's an enormous loss of internet history.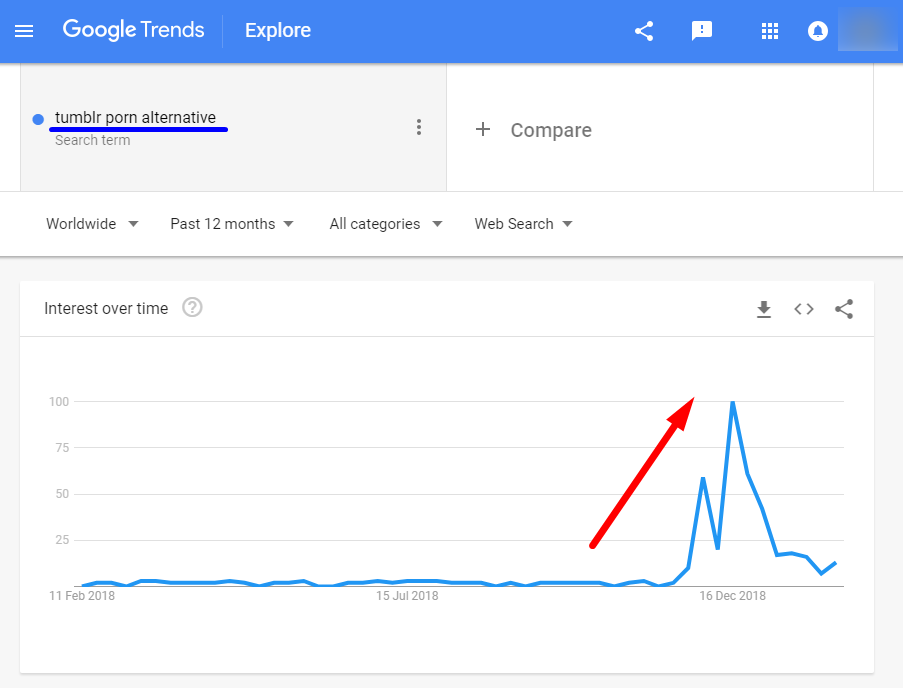 However, all the ever-popular adult GIFs, beloved non-mainstream porn pics, hot cam girl videos, Snapchat babes and any kind of GIFs of human genitalia, female-presenting nipples, and any media involving sex acts, including 3D or anime and illustrations are and the new policy measures – as the company flatly stated – are permanent.
Why did Tumblr pull the plug on porn?
To be honest, Tumblr was playing a dangerous game. It was known for its loose rules and guidelines with pornography and many adult bloggers took advantage of it. While loosening the principles of filtering pornographic content they should have anticipated the consequences – a lot of unwanted and often illegal content ended up on NSFW Tumblr blogs causing legal mayhem that the company did not want to deal with any longer. The platform had problems before due to the presence of pornography. In March 2018 the Indonesian government blocked the application because of this, earlier in 2017 representatives of the authorities from South Korea did the same. At the peak of its adult content mess, Tumblr disappeared from the Apple App Store mysteriously and not returned for a good while at the end of 2018. After an investigation, we now already know that the application was evicted from the store due to the appearance of child pornography content found on the blogging platform. That was the last drop and Verizon (the current company behind Tumblr) decided to ban porn altogether.
Since Tumblr was founded in 2007, it has largely turned a blind eye to adult content then Yahoo acquired Tumblr in May 2013 for $1.1 billion and they had a different vision already in mind. We all know Yahoo's disastrous track record with acquisitions (they wrecked first Flickr, then Delicious). After that its successor Verizon bought Yahoo itself for $4.5 billion dollars and their CEO Jeff D'Onofrio said once in a blog post – "We've given serious thought to who we want to be to our community moving forward. We've realized that in order to continue to fulfill our promise and place in culture, especially as it evolves, we must change."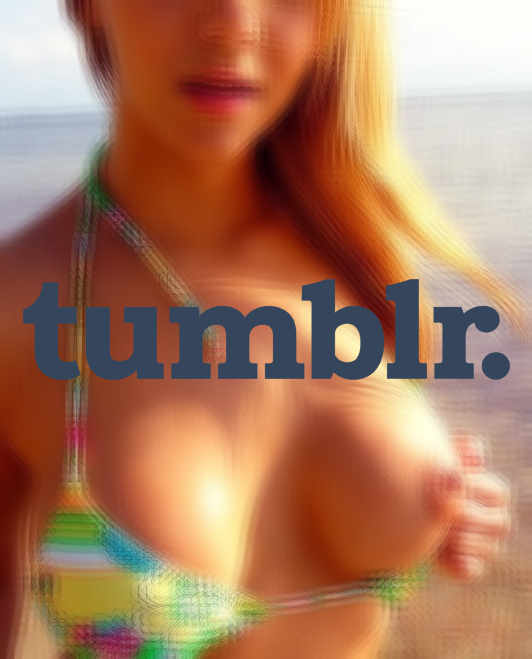 The company has tried to shield porn for a good while from public view through a feature called "Safe Mode" – which we all know any teenager can just click disable – and they tried applying more stringent search filters but at the end, they began to consider removing porn content more aggressively.
So, after all, that history now let's talk about where one has to go to get the daily dose of healthy porn & NSFW GIFs?
A number of social platforms have publicized their sudden increase in traffic for Google search terms such as "Tumblr porn alternative" since internet surfers manically started typing these words into search engines after looking at their favorite image blog's "suspended" or "deactivated" message on their screen. The profile picture of these banned blogs usually get pixelated and blurred if it contained sexual imagery. Some of these blogs were quite established and had hundreds of thousands of followers with tens of thousands of posts that were reblogged, liked and favourited millions of times. They will surely be missed. Sexual GIFs and thumb blogs are in an all-time demand nowadays.
A number of bloggers migrated their existing content using the export download feature of Tumblr. They might have posted the new URL location of the existing content somewhere else but most of the bloggers just started again from scratch or just gave up on the endeavor to post adult images. The main issue for bloggers is that the number of platforms that allow NSFW content are very limited. And there are only a handful of them out there and easy to use, especially when it comes to mobile applications.
Tumblr Alternatives that don't ban NSFW and Porn GIF images
Well, we still have Twitter and Snapchat where porn stars, sexy webcam girls, adult artists, sex workers and hot private babes still able to thrive. Eventually, there will be new players who might (or might not) be able to keep up with the demand. Reddit also features some sweet pornographic subreddits and if you like Russian / Slavic babes you can find good content on VK too.
The risk of creating an NSFW accommodating platform is not small – just think about the legal and jurisdiction hurdles a webmaster need to battle even when it comes to basic requirements such as hosting a server packed with user-generated and most likely uncontrolled adult images and videos.
To help your search for the best Tumblr porn alternative we have been browsing around for good sites – possibly finding platforms where the formal big blogs may have moved too.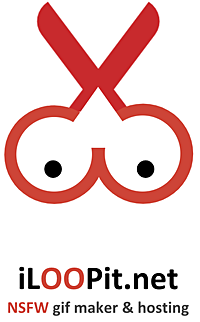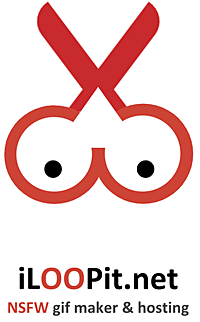 One of our favourite rising projects is iLoopit, a platform created by a small team that's looking for supporters via Patreon. iLoopit is not only a website where you can upload NSFW gifs but also a provider of a handy Chrome browser extension that makes it super easy to snap animated GIFs from videos – simply put, it's an online porn gif maker tool to cut off a snippet from an online video. It can directly upload to your own custom username.iloopit.net blog too where you can show off your collections Tumblr style.
Can iLOOPit.net be the next Tumblr for porn gifs and pics? Maybe
We can't argue that NSFW gif blogging is super popular in the past years. No doubt that Tumblr porn will be reborn. Where and by whom – that's the question. The easiest, most intuitive tools will succeed for sure. If you like NSFW blogs or perhaps an author of one, let us know in the comments which tool or platform you are using and what does your "post-Tumblr-porn-era" browsing / publishing looks like.
---
---