UPDATE: 2018 December 15th
Actual nude scene photos of Emma from The Favourite
Finally, we got quite high-quality screenshots from Emma's nude-boobs appearance.
Emma Stone Topless Boobies GIF
UPDATE: 2018 November 27th
We've now also seen the Emma Stone nude scene in The Favourite. Here's how it goes: [SPOILERS AHEAD] Emma is lying down on the bed on her right side so that her head is on the left side of the screen. Olivia is spooning Emma with her arm around Emma's waist. And we see Emma's left breast is exposed just above the blanket and Olivia's arm. Emma's right breast is unfortunately covered by her right arm. Should also note that we see Emma's entire left breast and not just a nipple peek. The scene is brief and pretty dark as the only lighting is from Rachel Weisz's flickering candle light as she spies on Emma and Olivia.
In a recent interview Emma Stone actually "insisted "on Doing Her Nude Scene in The Favourite and told the director she prefers to take her clothes off completely in the shot.
Emma said this on the interview about her decision to go topless
"I had the sheet up around me. And as we were shooting it and we did a few takes, I said, Can I please just be (naked)? I think it's going to give Sarah something to look at when she sees that I'm not just under the sheet covered up. Olivia was like, No, don't do it! Yorgos was like, Are you sure that's what you want to do? And I was like, Absolutely. I chose to do it. I was like, this makes sense to me. It's an absolute (Stone flips the bird) to Sarah."
Latest Hollywood movie nudity rumor has it that gorgeous Emma Stone is going topless in her new upcoming movie The Favourite.
So there's a movie coming out we think it'll be out in theaters around Thanksgiving called the favorite and it's a period piece it's like set in England in the 18th century with Olivia Colman and Emma Stone naked in the movie. It was seen in a test screening in a theater in Los Angeles and I can confirm that in addition to a couple of very slight side boob glimpses there is one shot of Emma Stone topless in beds so this is on yes yes yeah get ready for Emma Stone to give you a bone because this is big news and I know this will be something that will get a lot of interest here. She's so popular and even though we have a page for her where she's been in you know various stages of undress but not nude in her career she's never done a nude scene and I know this is gonna be a big deal when this comes out so breaking nudes Andrea a stone in a movie called favorite.
Surely the flashing of her boob will be a brief moment and possibly crushingly disappointing – you know what they say: never meet your heroes. Well, in this case never see your favourite babe nude, even if it's Emma Stone – better keeping expectations in check. After all, it's not about how her perky little pair of boobs look like (surely very sexy though), it's about her incredible performances as an actress and her fantastic personality as a human being, isn't it? That's why we love her!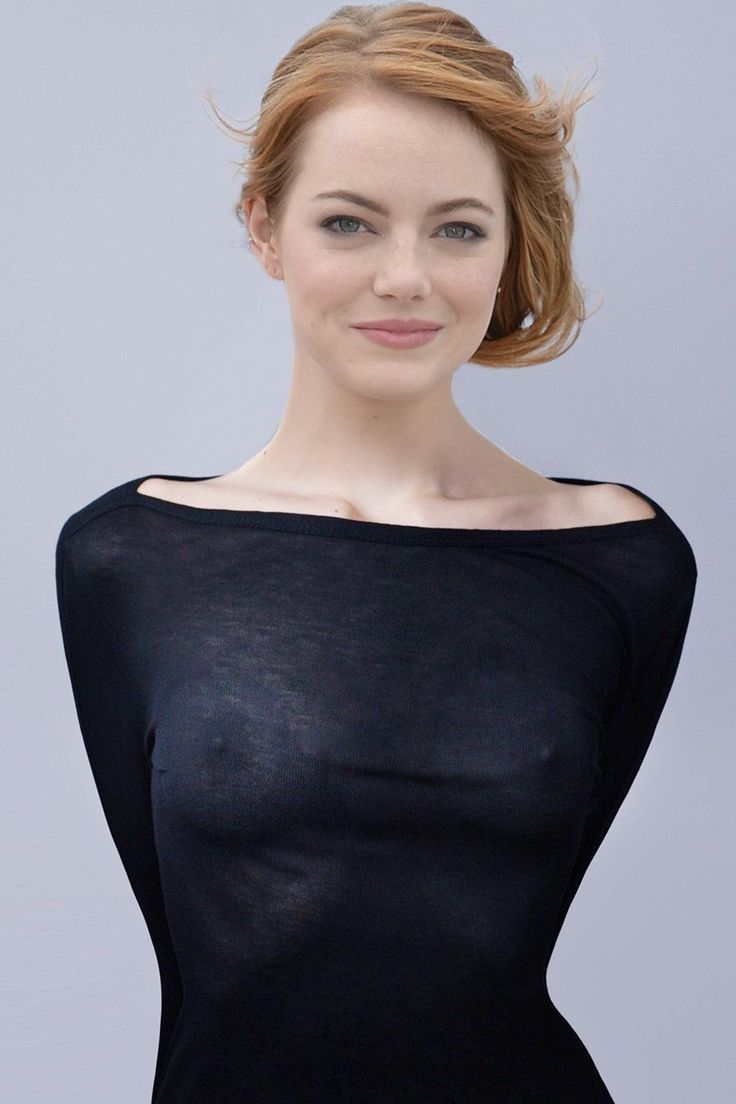 I will have more details as we get closer and hopefully we could get some pics soon but yeah that's big news – come on, it's Emma Stone! It always starts with the titties if we're gonna get that topless shot in the bed then hopefully she'll see she isn't gonna get a negative response if anything it's you know gonna be very welcomed by all of her fans and hopefully it'll inspire a bigger nudity movement on her behalf and we'll be able to see a lot more in the coming years so fingers some TNA from easy a so excited but yes listen there's been I mean I remember in the House Bunny she was in a bikini she did a movie called battle of the sexes where she was in her underwear but it's been all non-nude stuff so this is kind of cool.
So where and how can you watch Emma Stone's nude breasts?
People tell me this is gonna be a big deal so anyway,
the movie is called "The Favourite" Emma Stone to be naked. The release date in November 23rd 2018 (in the US). January 1st, 2019 in the U.K and probably around this time in the rest of Europe.
What a 2018 Christmas present it will be: Emma Stone nude scene – or at least a good look at her sexy topless boobs – can't wait for the video footage, it will be priceless.
It's a big deal – a major movie star's first nude scene. Thousands of men (and most likely women) has a massive crush on Emma Stone since forever.
I was at "The Favourite" test screening on Thursday in LA, and I can confirm that, in addition to a couple of very slight sideboob glimpses, there is one shot of Emma Stone topless in bed with one full breast clearly exposed. The scene came after I was convinced all we were going to get was the slight sideboob, so it was a pleasant surprise. I can't swear there's no CGI involved (although I don't have any reason to suspect there was), but it's a shot with the head and body in the same frame, so it's not a double.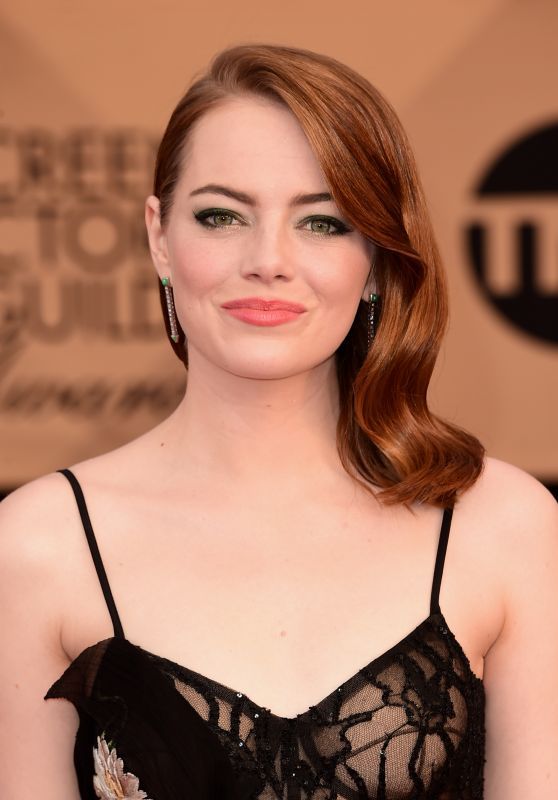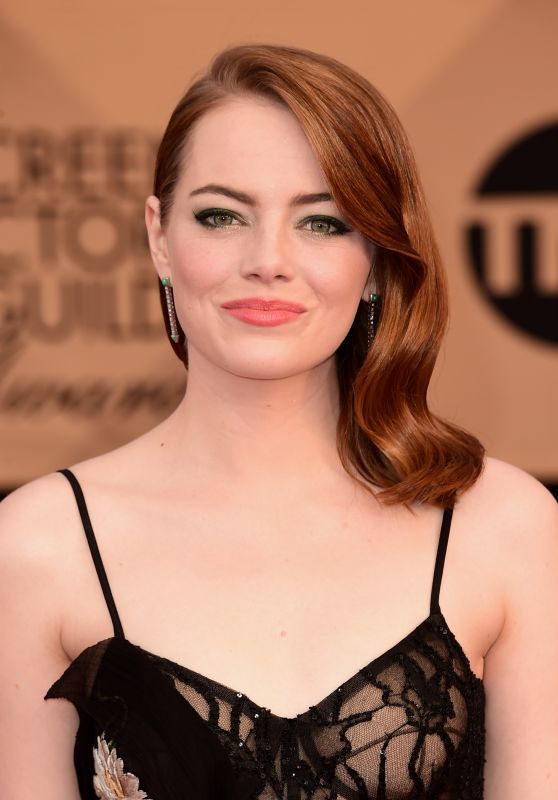 We did some digging and all seems to check out. There was a test screening at The Landmark last Thursday. Another source confirms there is a scene with Emma Stone in bed with an exposed breast. This takes place shortly after a scene where Emma pleasures Olivia Colman under a blanket. The Favourite is playing in Venice and Telluride in the fall so we'll probably get more confirmations then.
Here's the context (spoiler alert!): Rachel Weisz walks in to Olivia Colman's room and finds Emma Stone in bed with Olivia Colman after sex. Emma is laying on her right side, looking in Rachel's direction and smirking. Emma's left breast is fully exposed for several seconds. (The right breast was, I think, obscured by sheets.) It's a straight-on view. The scene was dark enough that, at first, I wasn't sure if she was naked or not. I honestly can't remember if the room gets lighter because of the open door or if my eyes just adjusted, but it became clear that it was a fully exposed breast. I would guess it was probably visible for 3-5 seconds.

I know there's a moment or two in the trailer that looks like it might involve nudity, but Emma's only real nudity was the bed scene described above.

By the way, her performance in the movie is excellent, and she looks gorgeous! (Neither one of those things should come as much of a surprise.)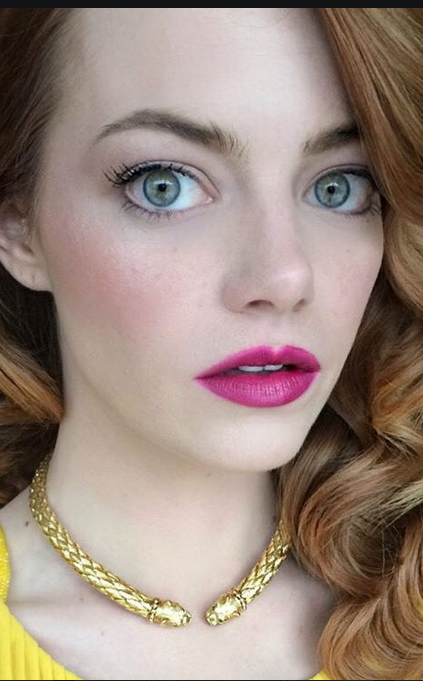 Hopefully, Emma Stone's nude boobs movie scene in the "The Favourite 2018" won't be a one time deal. Maybe any shyness or stinginess she had with on-screen nudity is gone completely and she'll continue to go the nude route moving forward. I look forward to seeing her boob make its debut. Although we doubt she'll go all out naked in a future film scene. She doesn't need nudity roles for attention.
Emma Stone Paparazzi Photos
Here's some more amazing sideboob action from a recent paparazzi shot that caught Ema Stone on camera.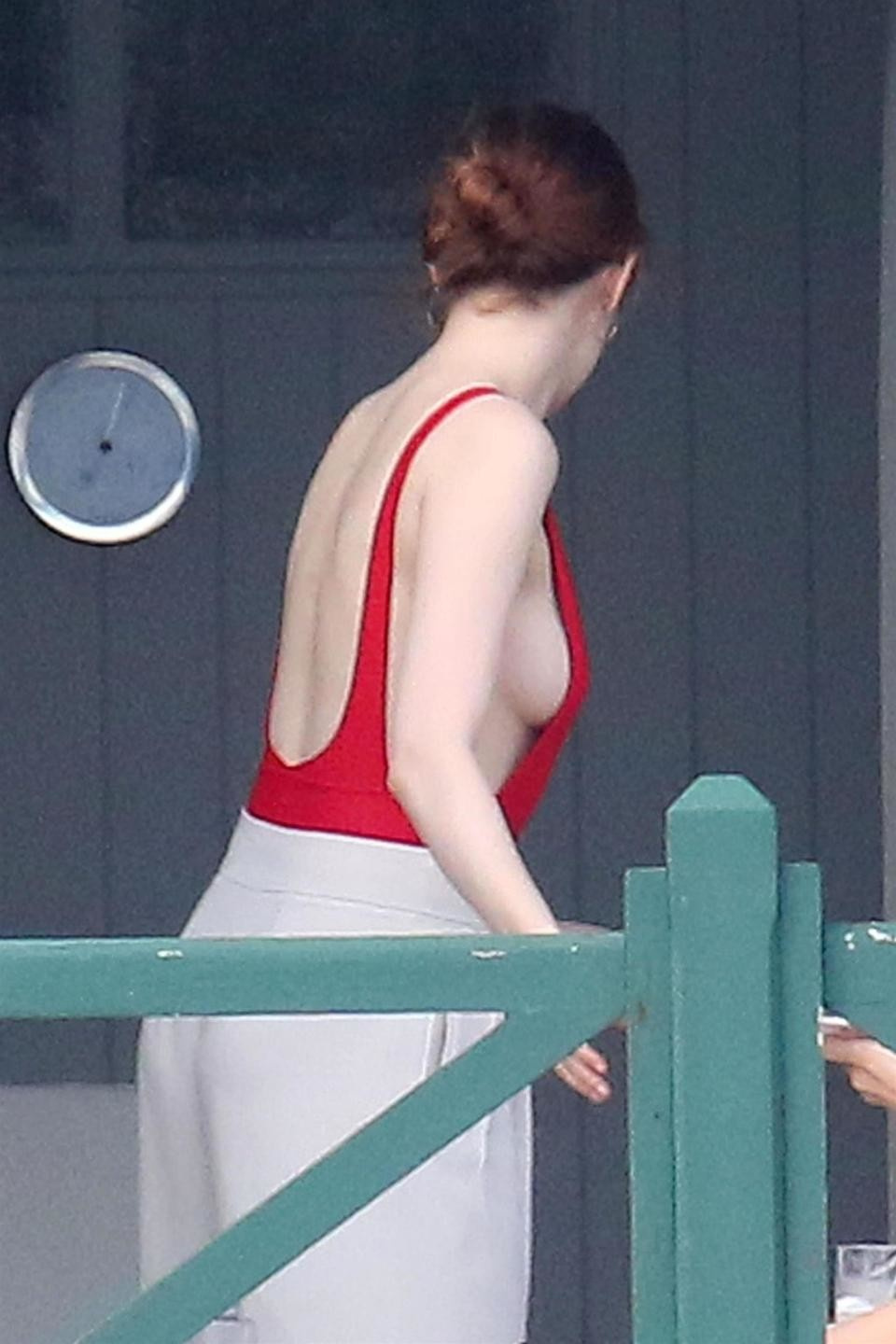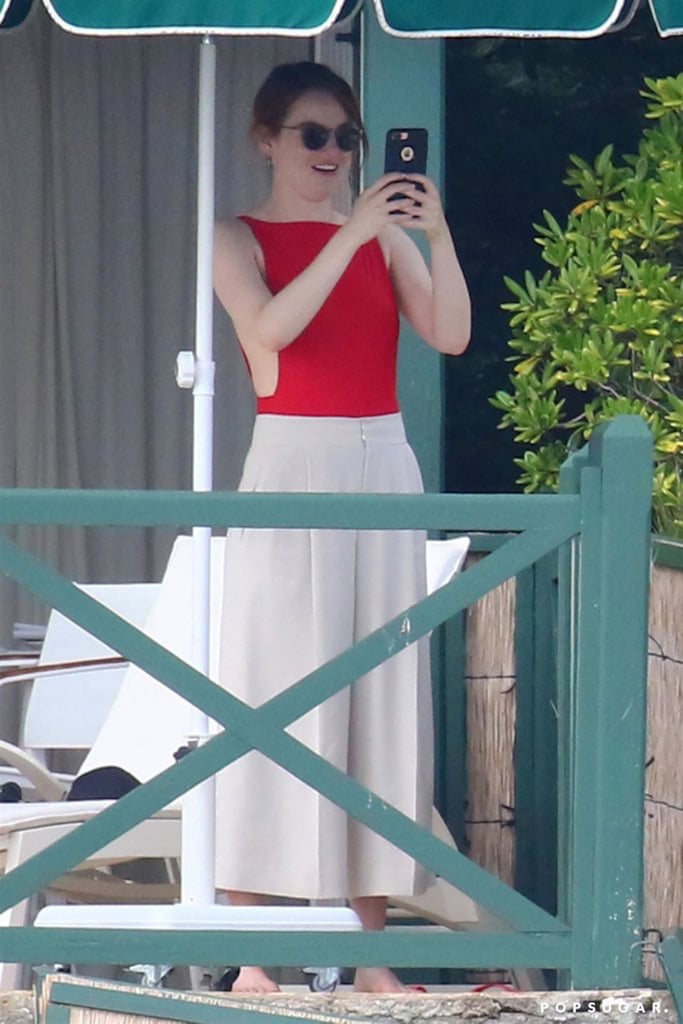 In this paparazzi shot, Emma is getting out of the water with totally wet clothes – super hot shots.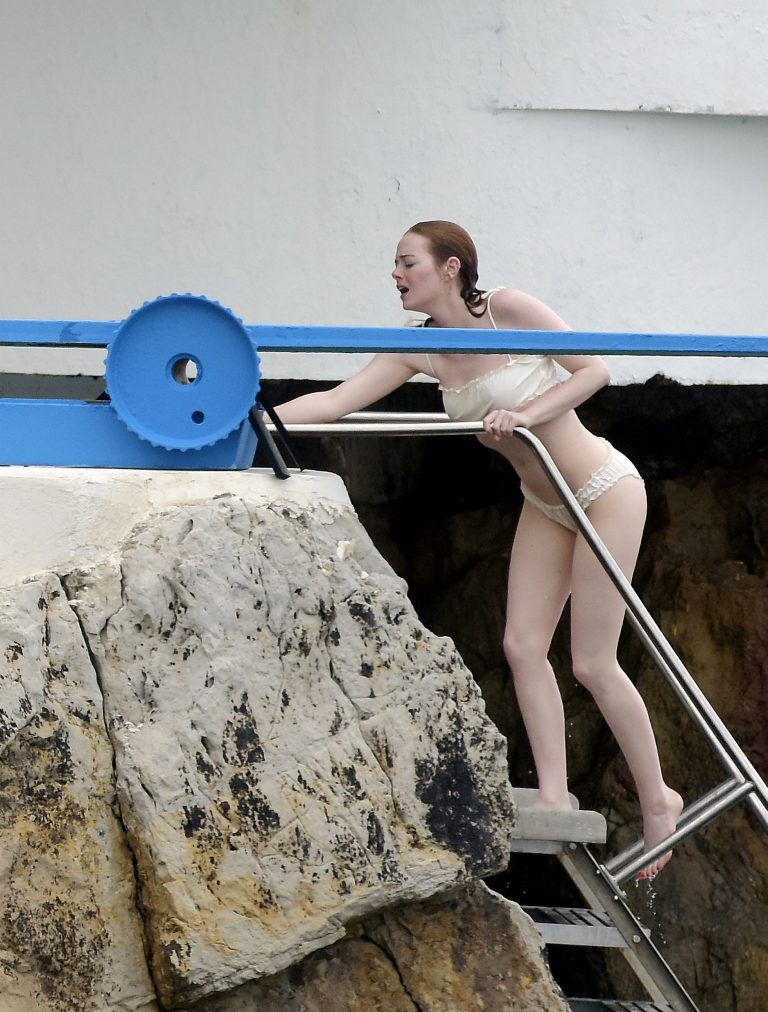 ---
---